Tulasi Srinivas, Professor of Anthropology, Religion and Transnational Studies, Marlboro Institute, is a recognized scholar of religion and ecology with a focus on climate justice.
Tulasi Srinivas is Professor of Anthropology, Religion and Transnational Studies at The Marlboro Institute for Interdisciplinary Studies at Emerson College. Srinivas is a fellow of the Royal Asiatic Society and the Indian Sociological Society.
Srinivas research focuses on comparative ethics and Hinduism. Her books explore themes such as wonder, beauty and grace through ethnographic explorations and her recent work considers climate justice and religious ecology in a post colonial context through the story of water in her hometown of Bangalore, India.
Srinivas is an award-winning teacher, most recently the 2015 Helaine and Stanley Miller awardee for teaching excellence at Emerson College.
Srinivas completed her PhD in Religious Studies and Anthropology through the interdisciplinary University Professors Program at Boston University with Prof. Peter Berger, and Anthropology at Harvard University where Prof. Nur Yalman was her advisor. She received an MA in Urban Studies from USC, and a BA (Honors) in Architecture from Bangalore University. Prior to joining Emerson she taught at Wheaton College and at the Berkley Center for Religion and Peace at Georgetown University.
She is a recipient of a Women's Studies in Religion Fellowship and a Radcliffe Fellowship at Harvard University, the Stanley and Priscilla Kochanek prize from the American Institute of Indian Studies, the Luce- ACLS fellowship in Religion, Journalism and International Affairs, the KHK fellowship at the Ruhr Universitat-Bochum, as well as fellowships from the Center for the Study of World Religions at Harvard University, at the Berkley Center for Peace at Georgetown University, and the Center for Study of Religion (CURA) at Boston University.
Srinivas has delivered several dozen invited talks on her research in a range of scholarly, policy and popular venues across the US, Denmark, France, Germany, Italy, India, New Zealand, Singapore, Spain, Switzerland, and the United Kingdom. She was the keynote speaker at the at Kings College, London in 2023 and the Jain speaker of Hindu studies at Oklahoma University for her work on climate change. the annual meeting of the New Zealand and Australia Religion Association, the Zentrum für interdisziplinäre Forschung (ZIF), Germany; and the World Bank's Human Development Forum. Srinivas has also been an expert with the World Economic Forum on matters of faith from 2010 to 2015 and was part of the WEF Davos summit from 2005 to 2010.
Srinivas is a decorated author and editor of 6 books and over 30 award winning journal articles and book chapters. Her books include Winged Faith Rethinking Globalization and Religious Pluralism (Columbia University Press 2010), the award-winning Curried Cultures: Food, Globalization and South Asia, (University of California Press, 2012 and Aleph press 2017, Indian edition), The Cow in the Elevator: An Anthropology of Wonder (Duke University Press Spring 2018) and Wonder in South Asia: Politics, Aesthetics, Ethics (SUNY press forthcoming 2023), and The Goddess in the Mirror: a Possible Anthropology of Beauty (Duke, forthcoming 2024).
She is currently working on a manuscript on religion, climate change and ecological degradation titled The Runaway Goddess: Water and Women in a Millenial City for which she won the LUCE-ACLS Fellowship in Religion, Journalism and International Affairs. Her work combines multiple methods including comparative historical, ethnographic, and experimental analyses. Her research has won numerous prizes across the disciplines of Anthropology and Religious Studies. Her research has been supported by the NEH, The Pew Foundation, The Amelia Earhart Foundation and the Rockefeller Foundation, and has appeared in The Boston Globe, Religion News Network, CNN, The Washington Post, NPR, WNYC, WBZ- news, The Arlington Advocate, The Immanent Frame, The Conversation, and Scroll.in.
Srinivas is an advisor to Bhumi, the New York based non profit seeking to help with climate justice initiatives in India, and the Bangalore city study group to the non-profit Jaaga that deals with conflict over land in the city. She is part of the team of experts to the World Economic Forum, Davos, on the Global Agenda Council on The Crisis of Global Inequality.
Research and Teaching Interests: Religious Studies, Wonder, Beauty, Hinduism, Comparative Ethics, Religion and Ecology, Food and Justice studies, Money and Economy, Anthropology of religion, Gender and economy, Ritual studies, materiality, visual culture, post colonialism.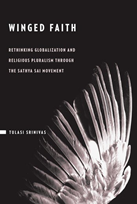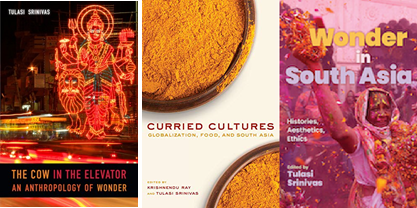 ABOUT
Marlboro Institute for Liberal Arts & Interdisciplinary Studies
Since 2007
EDUCATION
B.A., Bangalore University
M.A., University of Southern California Ph.D., Boston University
AREAS OF EXPERTISE
Anthropology Climate Change Culture
Environmental Studies Global Studies
Humanities & Cultural Studies
Postcolonial Studies Religion